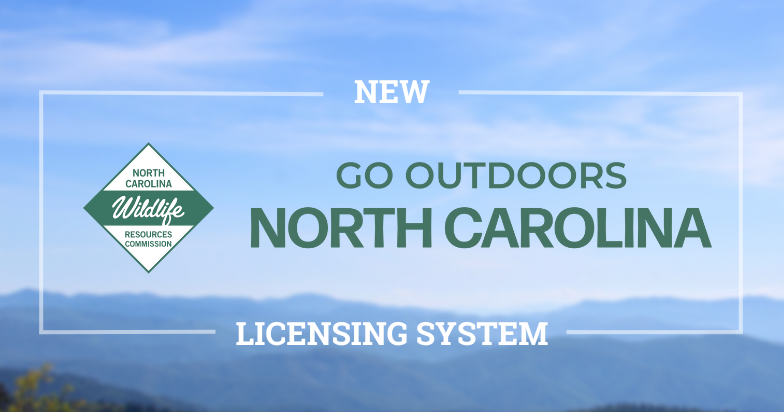 North Carolina Wildlife Resources Commission Launches New Licensing Platform, Go Outdoors North Carolina
RALEIGH, NORTH CAROLINA (July 19, 2023) – On Saturday July 1, 2023, the North Carolina Wildlife Resources Commission launched a new, custom licensing system and mobile app, Go Outdoors North Carolina, developed in partnership with Brandt, a Florida based company that provides innovative paperless web and mobile solutions for a best in class user experience.
Through Go Outdoors North Carolina, residents and non-residents can easily purchase licenses, register vessels, apply for permits, and shop for merchandise online. Customers will be offered the opportunity to upgrade their digital license(s) to a durable, hard card license with four designs options to choose from that feature North Carolina game and fish, including white-tailed deer, wood duck, largemouth bass and dolphin-fish.
"The new platform brings user-friendly features to outdoor enthusiasts across the state. This new efficient system is designed to improve the user experience for our fishing, hunting and trapping license holders, vessel registrants and Wildlife Service Agents."

Executive Director Cameron N. Ingram with the Wildlife Commission
The Go Outdoors North Carolina mobile app for iOS and Android users features a range of helpful resources from virtual maps, regulations, vessel registration, and much more. Through real-time license verification and secure digital storage, the Go Outdoors North Carolina app ensures that users can conveniently access their licenses at any time, even from their mobile devices. The app also allows users to access their licenses easily on their phones, view regulations and sunrise/sunset times in the field, and report harvests after hunting.
"The launch of the Go Outdoors North Carolina licensing system represents a significant milestone in our commitment to expanding Brandt's national support to transform the outdoor licensing experience with a simple, modern and secure solution."

Travis Warren, CEO of Brandt
As part of the partnership, Brandt also developed a mobile app for Wildlife Law Enforcement Officers to be able to scan license documents and/or hard card QR codes to confirm customer status in the field, with or without cell phone reception.
Customers can create an account online at Go Outdoors North Carolina or download the Go Outdoors North Carolina app to buy or sync their current licenses. To purchase fishing, hunting or trapping licenses or register a vessel visit gooutdoorsnorthcarolina.com.
About the N.C. Wildlife Resources Commission
Since 1947, the N.C. Wildlife Resources Commission has been dedicated to the conservation and sustainability of the state's fish and wildlife resources through research, scientific management, wise use and public input. The Commission is the state regulatory agency responsible for the enforcement of fishing, hunting, trapping and boating laws and provides programs and opportunities for wildlife-related educational, recreational and sporting activities.
Get N.C. Wildlife Update — news including season dates, bag limits, legislative updates and more — delivered free to your Inbox from the N.C. Wildlife Resources Commission.
https://www.brandtinfo.com/wp-content/uploads/2023/06/GONC-Press-Release.png
412
784
Tyler Stirrat
https://www.brandtinfo.com/wp-content/uploads/2020/03/Brandtlogo-white.png
Tyler Stirrat
2023-07-19 11:33:36
2023-07-19 11:40:01
North Carolina Wildlife Resources Commission Launches New Licensing Platform, Go Outdoors North Carolina